At Danbury Fish Farms, we're all about making your fish stocking and pond management experience as easy and enjoyable as possible. Our Monthly Pick Up days, also known as "slab sale" days, are a convenient way for you to pick up your fish at our Danbury facility. We want to make sure that you have everything you need to create a thriving pond ecosystem, and that's why we offer expert recommendations for fish stocking and pond management through various channels, including phone, website, and on-site visits.
When you place an order with us, you can expect personalized advice and recommendations to help you make the best choices for your pond. We want to make sure that you're completely satisfied with your order, and that's why we encourage you to contact us before submitting your order for pick up at the next available Slab Sale. All orders must be submitted in advance with full payment to be considered a "firm" order. Once your firm order is paid for and received before the deadline date, we'll schedule your pick-up time and notify you.
We know that picking up your fish can be an exciting experience, and that's why we encourage you to arrive early and browse around our facility. You can visualize our slab sale process through photos and information, and get a better understanding of how we operate. We want you to have a fun and educational experience when you join us for our Monthly Pick Up days.
At Danbury Fish Farms, we're committed to providing you with quality fish stocking and pond management services. We want to help you create a thriving pond ecosystem with ease, and our Monthly Pick Up days are just one way we do that. Join us and let us help you stock your pond with ease and quality fish.
Frequently asked questions
Here are some of the common questions we get asked about our Fish Pickup (or Slab Sale) service and answers to those questions.

Please review our Slab Sale Terms and Conditions
We package our fish in Live-Pak boxes, which are heavy duty cardboard boxes lined with a heavy duty plastic liner.  We pump the bag full of pure oxygen so your fish have great survivability in transport.
Here is a photograph of a Live-Pak box with liner inserted.  Please note the dimensions of the box to insure it will fit in your vehicle.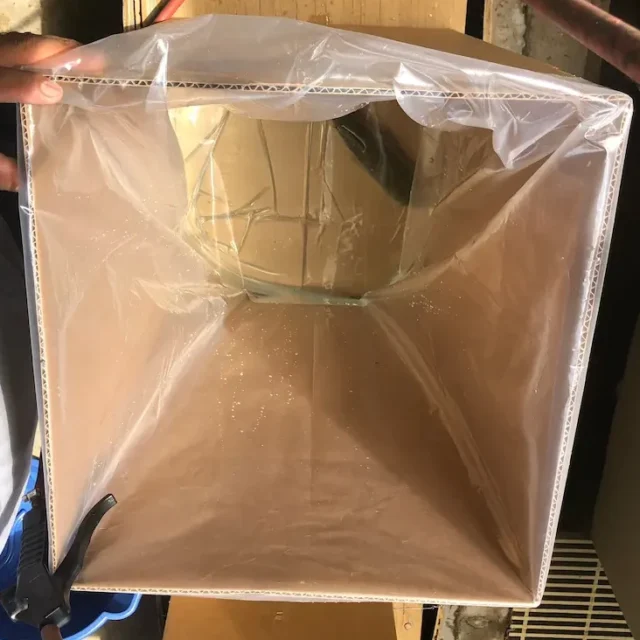 This is a question that requires some forethought and some knowledge about what kind of pond you want to create.
We recommend giving us a call at (979) 922-8414 and talking with one of our specialists to help you make the correct decision for your pond.
We offer the following species at our slab sales:
The following products can be ordered and picked up during our slab sale events:
Texas Hunter Products Directional Fish Feeders
Rangen High Protein Fish Food (floating and sinking varieties)
Subsurface Aeration Systems (Vertex and HiBLOW)
Pond Dye
Miscellaneous pond supplies
If you are interested in purchasing product, please let us know at the time of your order so we can insure stock is available.
In many cases, we have extra fish of all species and sizes available on our Slab Sale days. They are available on a first come, first served basis. Kay Roy, our office manager, can assist you with your additional fish purchase.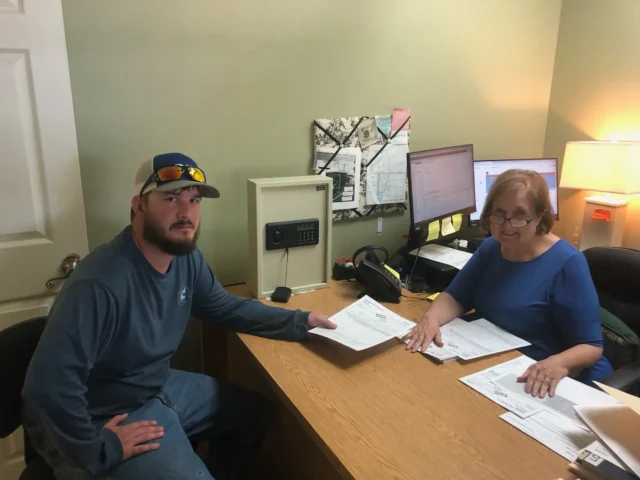 Fish are a highly perishable product that require proper care to ensure high quality and prevent delayed mortality after being stocked. Delayed mortality is a common occurrence, especially if fish are not properly cared for, and can have a significant impact on the fish. To prevent this, we take special steps to safeguard our fish from stress. Our fish are seined from our freshwater lakes and transported to our fish holding facility where they are graded, treated, and transferred to smaller tanks on the day of the sale, or prior to loading onto our delivery truck for shipment in the case of our delivery customers.  For pickup customers, we have developed and honed our process and our Live-Pak system over the many years we have been in business to insure that your fish have the best chance of survival en route to your lake or pond.